Welcome to River Flats Estate
Welcome to Fun with Friends
Welcome to River Flats Estate
Welcome to Fun with Friends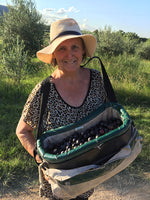 Our Family Farm
River Flats Estate is our family owned olive grove nestled between the yellow cliffs of the Brokenback Range and the Wollombi Brook at Broke.
Our family have been enjoying this property with friends and family for over 40 years. My daughter and I still live on the property and are proud producers of olives, olive oils, seasonal chutneys and relishes, vinegars and soys, jams, local honey, soaps and beauty products and of course our farm stay accommodation.
All products are handmade and available through our shop, located at 500 Wollombi Road, Broke, and at a range of local markets or here online.
Our olive grove has 3000 trees and is comprised of a number of different, mainly Tuscan, varieties, chosen for their suitability for either oil or table olive production. They were planted 25 years ago and were among the first for the hunter valley.
We look forward to welcoming you at River Flats Estate.
Better Homes & Gardens featuring River Flats
We had the pleasure of meeting Fast Ed from the Better Homes & Gardens team. He came and cooked delicious Olive Bread out the back of the shop, and later up at Carinya Homestead. Click the YouTube logo to open and view with sound.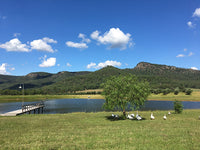 Farm friends
When you stay with us, you share the property with a few of our friends. The geese on the dam, a few helpful chickens, pigs, goats, alpacas, guinea fowl and our native kangaroos. Come and explore.
BOOK NOW
Absolutely fabulous! Highly recommend for your family gathering, friends weekend or (in our case) wedding! Has an incredible outlook looking over the property with stunning dam and olive grove. Pizza oven and amazing outdoor space with lovely fairy lights, spacious indoor kitchen. Basically everything and anything you need to throw a great event in a stunning location. We didn't want to leave!

Claudia, March 2020
Marian's place was fantastic. Beautiful views, cosy living areas, great games room. We had such a blast and will definitely be back. Marian and her daughter Michelle, went above and beyond to ensure our stay was one to remember, helping us with the amazing pizza oven and showing us how to make fresh goats cheese.

Candice, February 2020
Very spacious and very comfortable home, amazing entertainment and heavenly views, perfect for groups or families. Marian and her family are beautiful people and we love Riverflats so much. Can't wait to return soon.

Natasha, November 2019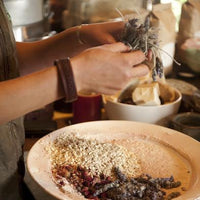 Pat Collins Workshops
Learn how to create natural remedies and skincare using herbs and weeds from our property. Learn how to identify them and then transform them into usable products to improve your health and harmonise your body, mind and soul.
Make a weekend of it by booking your accommodation at River Flats Estate too.
Book your course with Bare Nature'sKin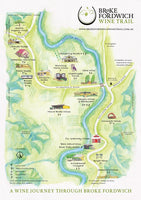 Start your Hunter Valley experience here
The Hunter Valley is renown for great wine, usually in the Pokolbin area. Why not take a step off the beaten track and explore the Broke Fordwich region. Book your base camp accommodation with us, then explore great wine, and of course, our rustic olive grove and unique shop with an aroma that will take your breath away (and we don't mean the animals!).